2014.03.13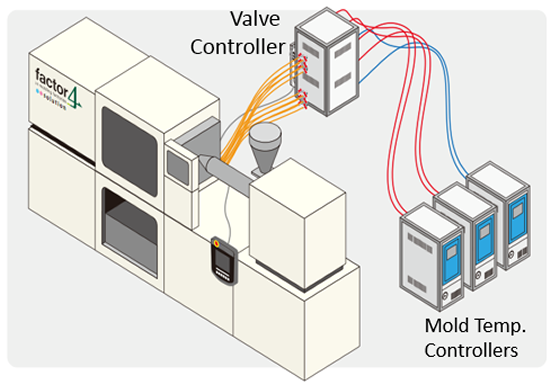 Doubling Wealth & Halving Resource Use" in molding factories (6) --- Rapid Heat & Cool Molding (2)
6. Rapid Heat & Cool Molding (2)
As previously mentioned, Heat & Cool molding is an effective technology to improve the surface quality of molded parts.
Can we pass the cost of Heat and Cool molding on to the customer? Will sales increase based solely on an improved surface quality? In most cases the answer will be no.
In order to reduce the costs of molding we offer an alternate method of temperature control in the mold from the current one. By using existing temperature controllers we can minimize the initial investment and turn a profit quicker with the implementation of Heat & Cool molding.
First we would propose the system below:
THREE (3) standard high temperature mold controllers and a valve controller unit are required for this system. The temperature controllers are used for Cooling, Pre-Heating and Heating the mold. Mold temperature control will respond faster with the use of three temperature controllers in lieu of two temperature control units.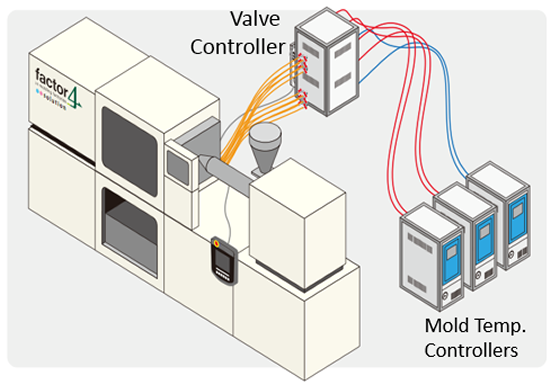 In this method you will use your existing mold temperature control units and only purchase the valve controller. If you are not using the Heat & Cool molding you can utilize these assets in a different locations. Furthermore, we recommend to use your existing mold as it is, not make a new one from the scratch in order to verify a rough effect at the beginning. This will reduce your implementation costs of the Heat & Cool system of molding.
Next, we propose a way to begin showing a return on investment much sooner.
In terms of Heat & Cool molding, normally we would rapidly heat the mold surface to the melt temperature of resin and inject the material into the mold. Once injection of the material is complete we rapidly cool the mold. As is illustrated in the graph below of Heat & Cool molding .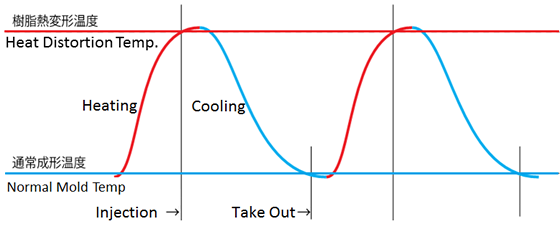 However, another method is to maintain the standard temperature during injection of the mold. Once injection is complete we would remove the part and rapidly cool the mold surface. Then return to the standard temperature of the mold.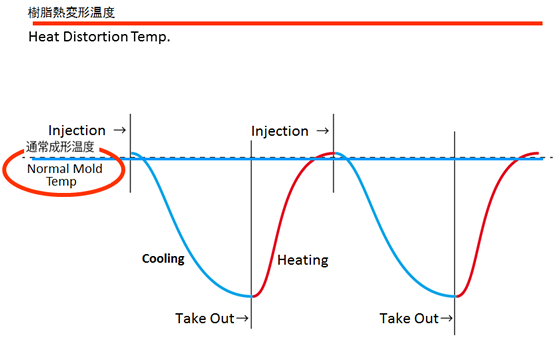 In some cases the surface quality of the part may not be improved. In applications with a cycle time of 60 seconds or greater there are many ways to reduce the cycle time without effecting surface quality of the part. It is especially beneficial to thick molded parts and foam molding. In one example the cycle time was reduced by 37%.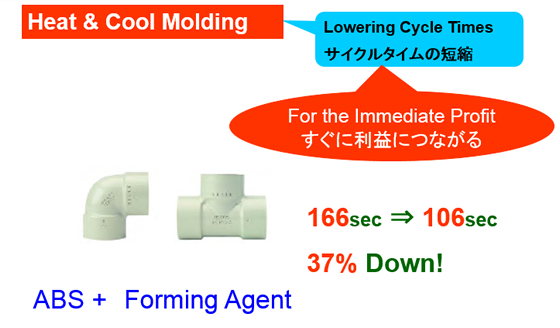 You can implement Heat & Cool molding with minimal investment and with the use of current temperature control units you will realize a return on your investment in a very short time period. Afterward, we propose the analysis of you mold with CAE software. We would suggest the implementation of the three dimensional cooling channels (conformal cooling channel) in the mold( http://greenmolding.org/english/solution/564 ).
Metal 3D print technology, was introduced earlier to optimize the process. Furthermore, we intend to move forward with Heat & Cool molding of Steam, Hot oil, and Induction Heating.
To be continued.