2014.02.17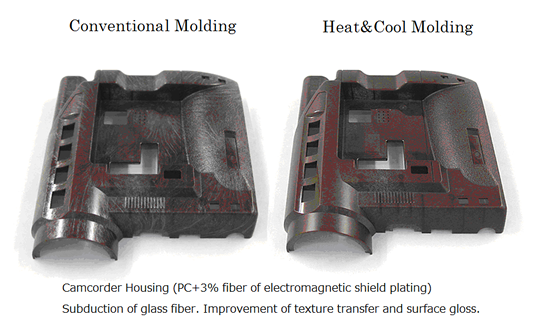 "Doubling Wealth & Halving Resource Use" in molding factories (5) --- Rapid Heat & Cool Molding
5. Rapid Heat & Cool Molding
The solution introduced here is Continued from "Heat & Cool Molding", which follows "Conformal Cooling Channels" talked about last time. By heating & cooling the mold temperature rapidly, Heat & Cool molding generates desirable effects; "Improving Surface Quality" and "Reducing Cycle Times". Furthermore, it can offer "Lighter Molded Samples" and "Eliminates Resin Waste" by reducing sample thickness.
The best known effect is the improvement of surface quality as shown below: Heat & Cool Molding will correct weld lines and sink marks. During injection the mold surface temp. is raised above the thermal deformation temp. of the resin. After injection the mold surface is cooled rapidly, solidifying the material without visible imperfections. It is also possible to achieve high surface gloss even with glass filled materials.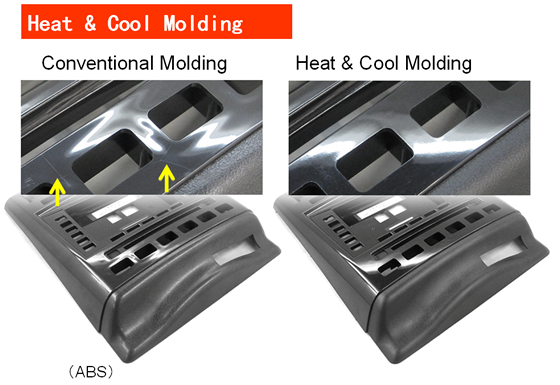 Recently Heat & Cool molding has demonstrated the ability to effectively transfer complex textures like genuine leather as pictured below. Also the problem of orientation marks seen in metallic molding is corrected.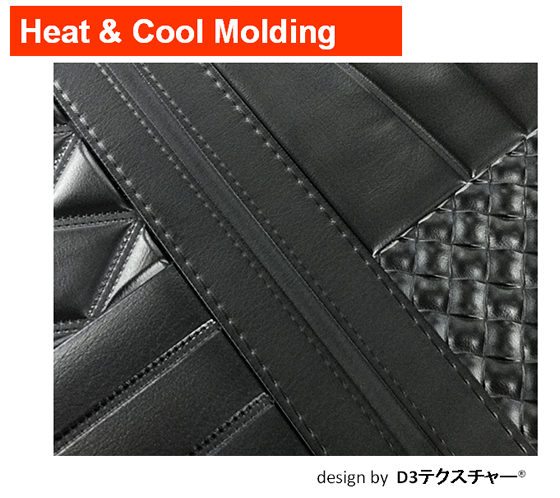 Our association, AGMS offers 4-types of Heat & Cool Molding. Each type incorporates a different method for heating the mold; Hot Water, Steam, Hot Oil or Induction Heating. Each type has advantages. The optimal system for an application will depend on required temperatures, as well as the size & shape of the molded sample.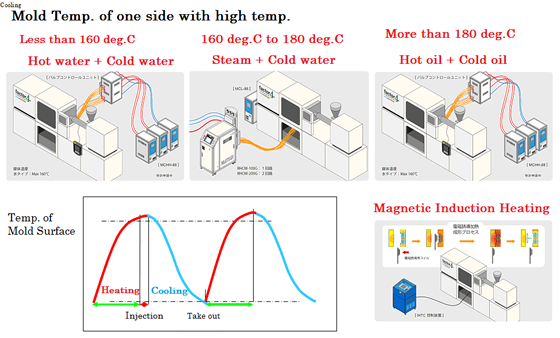 Developing and implementing Heat & Cool Molding requires time and investment. The improvements to the molded part are significant. However this doesn't necessarily usually allow an increase in the part price. In other words, you can't make it profitable quickly, even though you are providing an improved product to your customers. This may prevent you from moving forward, since it doesn't make sense to invest without a good return, in a reasonable amount of time. If this is found to be the case, we will agree and won't push Heat & Cool Molding.
Next time we will introduce a method of Heat & Cool Molding, which has a much quicker payback.
To be continued.
Lowering Cycle Times
Improvement of Surface Quality & Value
Lightening Part Weights
Higher Dimensional Precision