2013.09.27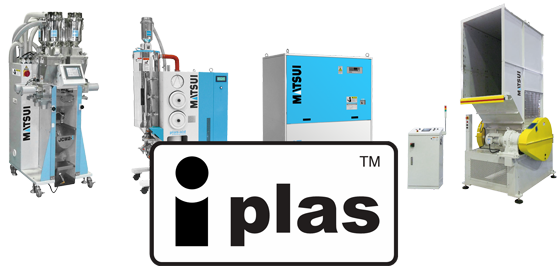 Achieve Green Molding (1) --- Self Control Feature; iplas
◆  Self Control Feature; iplas
We, Matsui, propose "factor4" as a primary target in molding factories. As a partner for resource-saving, our goal is to help customers achieve 4-times resource productivity and the elimination of 'Energy Waste', 'Resin Waste' and 'Water Waste".
At this time we would like to introduce the self control feature called "iplas". Created by our own improvement/development section, iplas is one tool for reaching "factor4" in molding factories.
Matsui's main business is the development, manufacture, and sale of auxiliary systems for injection molding. However we also see molding factories from a "factor4" perspective. Therefore we are focused on not just fulfilling machine needs, but also helping customers reach Green Molding.
We have always developed products with energy efficiency as an important target. However we came to realize that in spite of this, auxiliary systems frequently consume more electricity than modern injection molding machines! We have seen this ourselves by measuring energy consumption in molding factories.
In order to realize the promise of "factor4", we found it necessary to fundamentally change the design of our products. The iplas series was created with the lofty objectives of delivering both significant energy savings and resource savings compared to their conventional counterparts. Here is an example of what iplas achieved;
Mold chiller system, MCC5-I reduces upto 57% of energy saving
Gravimetric type blender, JCW2-i reduces 99% of the material waste
Dehumidifying dryer, MJ5-I reduces max. 75% of energy saving
Dedicated shredder for gas tank & plastic drums, MSHT-I achieves max. 87% of energy saving.
Matsui set ambitious goals for its' iplas lineup. In the end iplas products not only succeeded in reaching the energy and resource saving goals created, but added other benefits to the list! For example, a reduction of heat given off by iplas systems contributes to lower air conditioning costs. The lower noise levels created increases worker comfort and eases communication on the plant floor. Matsui's iplas series of products are a very effective way to fulfill "factor4" in molding factories.
* iplas
The "iplas" emblem signifies Matsui's new lineup of intelligent products. Equipped with adaptive controls, iplas products continuously monitor usage and other molding process variables. Automatic adjustments based on these variables allow iplas products to operate in the mode that offers maximum energy and resource efficiency. An iplas product can slow down or speed up operation depending on factory demands. An iplas product may even temporarily suspend operation if conditions allow. These abilities allow iplas to deliver significant energy and resource savings automatically, and invisibly. Matsui's iplas products can help molders achieve the highly desirable goal of Green Molding.
Getting Rid of Wasted Energy
Getting Rid of Material Waste
Green Molding in General