2013.12.17
Microcellular Injection Molding at K2013
Microcellular Processing at K2013
1. About K2013
K-Show is the world largest trade fair of rubber and plastics which is held every 3 years in Dusseldorf in Germany. K2013 was held from October 16th to 23rd gathered about 220 thousand visitor from all over the world.
In this document, I will report about microcellular injection molding technology at K2013.
2. About Microcellular Injection Molding
Microcellular injection molding is a physical foaming process using supercritical fluid (SCF) such as nitrogen and carbon dioxide. Microcellular foam has huge numbers of cells less than 100μmφ.
Microcellular injection molding brings a lot of benefit such as weight reduction, improve dimension stability, sink mark reduction and warpage reduction. Fig.1 shows schematic flow of microcellular molding.


Fig.1 Schematic flow of microcellular molding
Fundamental technology of microcellular molding was born at MIT and developed to a commercial technology at Trexel. This technology is sold and licensed as MuCell technology by Trexel Inc.
3. Microcellular Injection Molding at K2013
Trexel Inc. displayed brand new SCF generation/supply unit for MuCellⓇ. This unit was used at KraussMaffei's booth. Trexel also displayed a lot of automotive parts. This time, many interior parts such as door trim and instrument panel were displayed while a lot of under hood parts were displayed in the past. (Fig.2)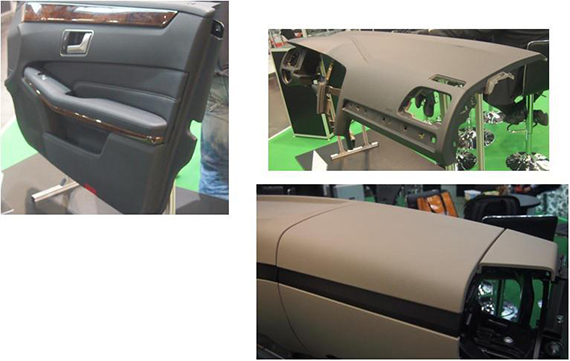 Fig.2 Automotive parts displayed at Trexel's booth
Left: Door trim, Right (both upper and lower): Instrument panel
KraussMaffei, an OEM of MuCellⓇ machine, demonstrated the combination of MuCellⓇ and Variotherm technology to mold a high gloss part as shown in Fig.3.



Fig.3 Demonstration at KraussMaffei
Left: high gloss foamed part, Right: New SCF unit
ENGEL, an OEM of MuCellⓇ, demonstrated a new technology producing multi layered soft touch part in one step. The part was consisting of TPE skin layer with PP foam, PU foam and injection foamed core. Fig. 4 shows schematic draw of the mold and pictures of the part.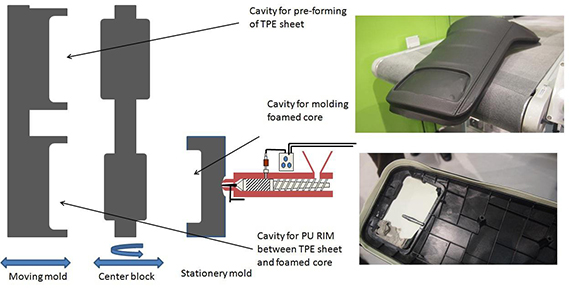 Fig.4 Schematic draw of the mold demonstrated at ENGEL to produce soft touch part (Left) and the pictures of the part (Right).
Wittmann Battenfeld, a producer of temperature controller and injection molding machine, demonstrated the combination of physical foaming using nitrogen (CELLMOULD), Variotherm (BF MOULD) and core back (HiP) to produce a part with high expansion and high surface quality.
Faunhofer, the largest European research institute, demonstrated molding flying disk using MuCellⓇ. Swirl mark could be seen on the surface. They said their objective was to develop a technology eliminating swirl mark using counter pressure technology or variotherm technology.
4. Technical Trend in Microcellular Injection Molding
Development of microcellular injection molding is shifting from non-visible use to visible application. To eliminate swirl mark, a lot of companies are aggressively studying the combination of foaming and high quality surface technology such as counter pressure technology, insulation mold and vatiotherm technology.
5. Impression
I have felt strong energy to utilize new technology in western companies. To expand MuCellⓇ technology will contribute to preserve the environment of this planet because of not only material reduction but also fuel consumption reduction.
Getting Rid of Material Waste
Lightening Part Weights