2013.12.17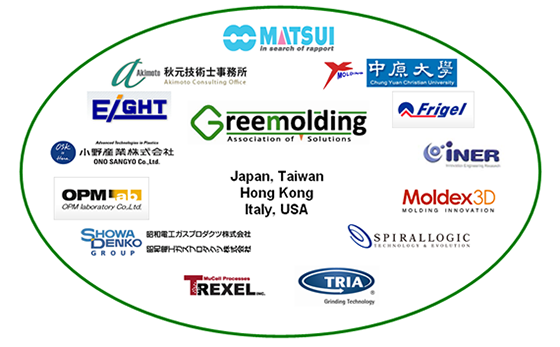 "Doubling Wealth, Halving Resource Use" in molding factories (3) --- What is the Association of Green Molding Solutions?
3. The Background and Overview of the Association of Green Molding Solutions
As mentioned in my previous article,  the waste of resources in molding factories is a huge area of concern. We believe we can increase resource efficiency by 4-times, over current production methods and habits. But an improvement of this magnitude is too big a task for one company. It requires a group effort.
So we have chosen the best technologies in the world and have decided to cooperate with the companies which have these technologies.
In Dec. 2011, we formed an alliance with these companies and named it "The Association of Green Molding Solutions". Here are the members of this association. There are 2 European, 1 American, 3 Taiwanese, 1 Hong Kong and 6 Japanese companies or organizations. There are mold manufactures, molding companies, equipment manufacturers, a simulation software provider, a university laboratory and so on. All have state-of-the-art solutions.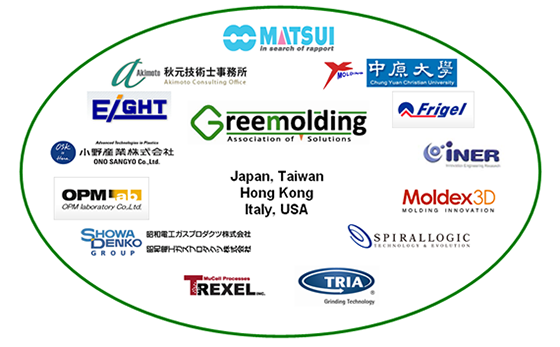 With these companies' and their technologies, we have already prepared 50 solutions for "10 ways to realize factor 4". The "10 ways" includes "Getting rid of wasted energy and material waste" to halve resource use, "Lowering cycle time", "Shortening set up times", "Cancelling problems with gas or contamination or water quality" to enhance the hourly output, and various paths to add more value to the molded parts.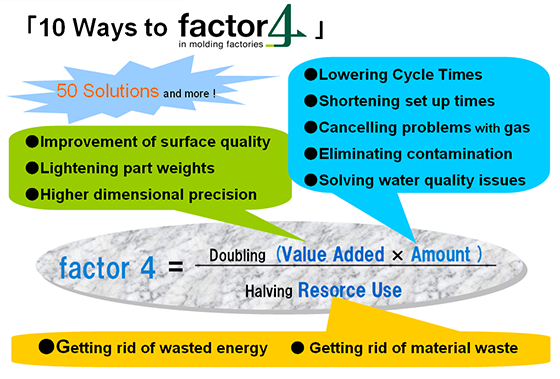 Our association aims to help our customers dramatically enhance resource efficiency through the implementation of these solutions. Our main focus is in these four areas;
1) Green Molding Magazine
We issue a monthly email magazine in 3 languages, English, Japanese and Chinese, to introduce the various solutions.
2) Green Molding Conference
We hold a conference several times a year in various places in the world to make presentations and give the visitors the Q&A opportunities about the solutions. You can review the most recent conference on the following Web page.
http://www.caemolding.org/newsevents/news/gmc2013/news-dg.html#a001
3) Joint booth at the exhibitions
We have a joint booth in IPF and Chinaplas and so on to give the visitors the opportunities to see and touch the solutions.
4) factor4-tech-studios
We have set up a facility in Osaka, Japan, to demonstrate these solutions in action. We can even use the customer's own molds or materials. We will set up similar facilities in other places of the world in the future.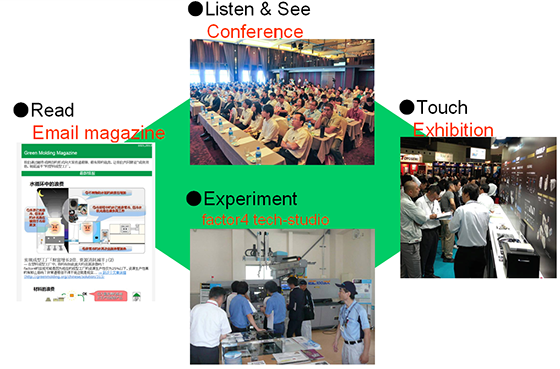 Our association welcomes non-member companies to make presentations on their ideas for achieving Green Molding, at the conferences we hold.
In future articles I will introduce some of the most popular solutions of our association.
(To be continued.)