2013.11.18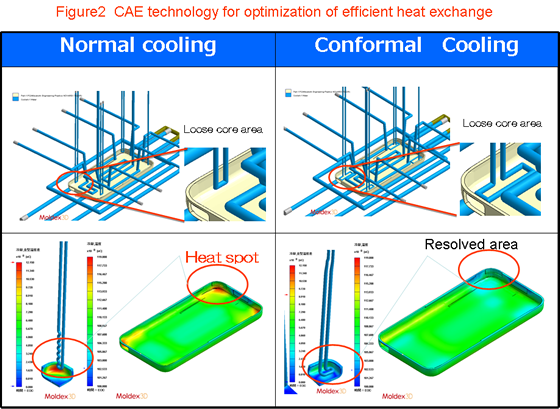 "Dramatic Advancement of Milling-Combined Metal Laser Sintering Technology and its Operational Enhancement" (3)
Continued from my previous article.
5. Enhanced Development of Metal Laser Sintering Hybrid Milling Solution Software
Our company's core business, producing more than 60% of our sales, is `die mold design and production based on metal laser sintering hybrid milling technology', and most of the requirements made by Japanese, Chinese and Southeast Asian customers are about high cycle molding and molding quality improvement, especially about solving wearpage problems. We give our suggestions to visually prove that the cooling time is shortened and quality is improved. This comes from making the most of 3D sprues very peculiar to this method.
At the same time, it is also our company's role to provide the machine users with this well-tempered solution software and give them consulting support. Those who are supported this way can drastically shorten the time it takes to put the machine into full operation. Our company's mold design and production flow chart is shown in Figure 1, and an example of our company's actual process conducted in accordance with this flow chart is shown in Figure 2.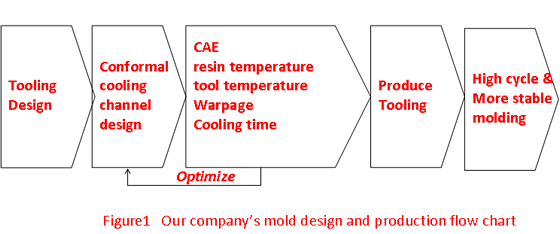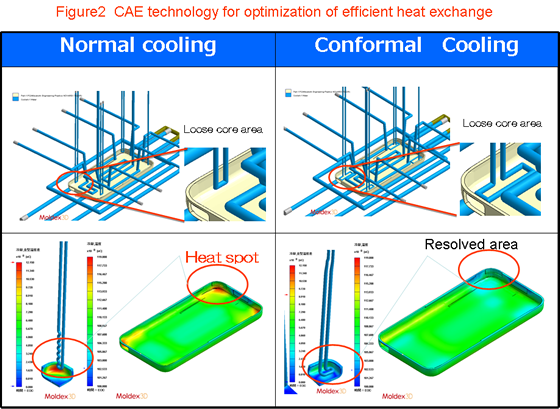 ■Cooperation of GCCC – Guide Conformal Cooling Channel – system and resin thermal resin analysis CAE system Moldex3D
The term "conformal cooling channel" has settled in foreign countries, not "3D cooling channel."
The basic definition of conformal cooling channel is that a sprue is set at the equal distance and angle from product surfaces. However, the shape of a product is so complicated that it is necessary to change and adjust the shape of the sprue in the part which is too narrow for the sprue. This requires high level 3D modeling technology, and it all comes down to how close it can get to ideal conformal cooling channel. From the designer's viewpoint, however, this is a time consuming task. So, it is a must to reduce the burden of designing tasks. You might also want to confirm that the initially programmed design is really an effective one. You may also want to check it out simultaneously through CAE systems. From the user's point of view, visual confirmation of effectiveness will be much appreciated.
On account of these backgrounds, we have developed "the GCCC system" which is capable of automatically drawing central lines of sprue in designing a conformal cooling channel inside a cavity, a core or a slide. We released the first version of the system by which the system automatically gets linked up with Moldex3D to smoothly realize the following steps; simple designing of conformal sprue and thermal analysis of resin when chilled by conformal cooling channel (Figure 3).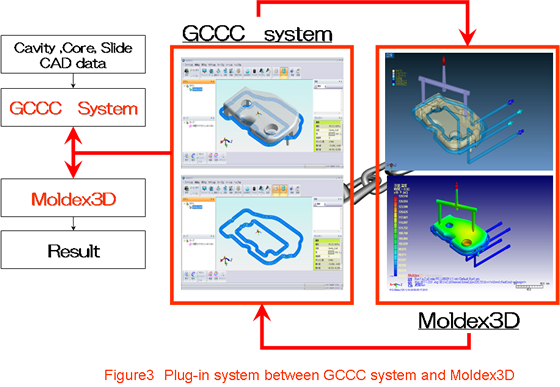 For the record, we are allied as collaborative development partners with CoreTech System Co., Ltd in Taiwan who is a developer of plastics molding CAE system Moldex3D for research and development purposes. We have also decided to become an agency taking charge of actual designing as of this September.
■Newly Integrated OPM-CAM System
By upgrading usability by employing Spatial ACIS, with plenty of CAD translators around, we have achieved 70-percent improvement, compared with the previous systems, in computational speed of laser firing and milling data generation. As a result, even those who are not experienced can generate high precision and highly effective object data. Due to all this, data validation can be confirmed more convincingly and more instinctively, of course with the help of laser firing and milling simulation features (Figure 4). In addition, as of this fiscal, we will get the next generation CAM system development started and equip it with CAD features, with the aim of creating the next generation CAD/CAM system.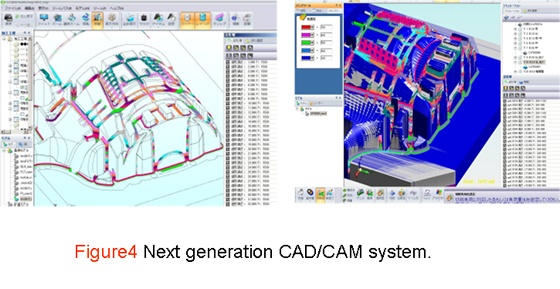 6. On a final note
We have established in Shanghai a local corporation Rise Mold Laser Technology Co., Ltd along with industry-leading mold temperature controller maker Matsui Mfg Co., Ltd in order to supply metal laser sintering hybrid milling products on the continent. Currently, the said corporation is making products mainly on behalf of Japanese manufacturers and also mainly for the purpose of supplying Taiwan EMS making factories located in China. Since super major companies such as Apple and Hewlett-Packard are willingly employing conformal cooling technologies we are planning on increasing our supply capacities. Those of you who need to obtain the product firsthand are encouraged to contact us.
Written by OPM Laboratory
Shimogyou ward chuudoujiawata machi 93 Kyoto research park Building number 3 B room number 107. Kyoto city. Kyoto. 〒600-8815. Japan
Company President Kazuho Morimoto
TEL: 075-314-3446
FAX: 075-314-3448
Lowering Cycle Times
Cancelling Problems with Gas
Lightening Part Weights
Higher Dimensional Precision